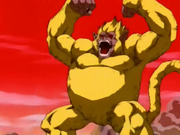 Golden Great Ape
(黄金大猿,
Ōgon Ōzaru
, lit. "Golden Great Monkey"),
Super Great Ape
(超大猿,
Chō Ōzaru
, lit.
Super Great Monkey
), or sometimes called
Golden Oozaru
is an alternative and far stronger type of
Great Ape
that is seen only in
Dragon Ball GT
. It is attained by
Saiyans
who have a tail, a sufficient power level, and are already in use of the
Super Saiyan
form and above before looking at either a full moon or a full planetary body (sunlight reflected from a planet apparently works equally well as Blutz Waves, as
Goku
used the "full
Planet Earth
" to transform). Aside from its fur being golden-colored and standing on end, its appearance is identical to that of a regular Great Ape (except Great Ape Baby, whose skin is inexplicably blue-colored, possibly as a result of the mutations Baby was performing on
Vegeta's body
). Additionally, a golden, crackling aura is sometimes visible around the user.