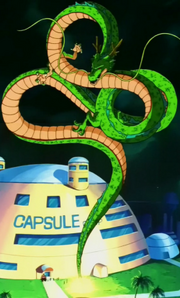 Shenron
(神龍,
Shen Long
; literally "Spirit Dragon" or "Dragon of Spirit"), is a magical dragon from the manga
Dragon Ball
, as well as the anime
Dragon Ball
,
Dragon Ball Z
, and
Dragon Ball GT
. In the English dub of
Dragon Ball Z
, he is mostly called the
Eternal Dragon
and in the early Harmony Gold Dragon Ball English dub from the 1980s, he is known as the
Dragon God
Granted wishes
Edit
Before Dragon BallEdit
An otherwise unknown character uses the Dragon Balls to become a king.[1] It is highly probable that the ramifications of this wish are still being felt to the present day, as the entire world is unified into one giant kingdom, with regional provinces dotting the globe, as shown in the King Piccolo Saga.Edit
Dragon Ball
Edit
Oolong wishes for a pair of panties off a "hot babe" (though he just yelled the first thing that came to his mind as he was trying to stop Emperor Pilaf from making his own wish). Due to censorship issues, the English dubs changed this wish to "the world's most comfortable pair of underwear" (Brought forth Oceanus Shenron in GT).
Goku wishes for Upa's father Bora to be revived (Brought forth Haze Shenron in GT).
King Piccolo wishes for his youth to be restored (brought forth Nuova Shenron in GT).
Reviving everyone killed by King Piccolo and his sons.
Dragon Ball movies
Edit
Dragon Ball Z movies
Edit
Dragon Ball GT
Edit
Other media
Edit